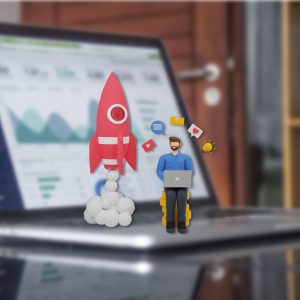 Do you find yourself in a pickle when it comes to devising a plan that delivers worthwhile results. What exactly is it that improves conversion? You're in luck! We have put together a short guide on how to improve the design of your website to maximise those conversions. 
Conversion rate is a function of your website usability, trust in your brand, relevancy of the incoming traffic, and a multitude of other factors. To ensure you are getting the most bang for your marketing buck, continuously optimising your website for increased conversions is a no-brainer!
However, you might find yourself in a pickle when it comes to devising a plan that delivers worthwhile results. What exactly is it that improves conversion? Design. Design has drastically changed over time, and it continues to evolve regularly.
So, with all that being said, we have put together a short guide on how to improve the design of your website to maximise those conversions.
1. Not Just a Pretty Face Logo
Branding is a buzzword that a lot of people use, but don't know what it truly means. When we say 'brand' we don't just mean a pretty logo (although that helps a lot!). A brand is how a business, product or person wants to be perceived by those who interact and experience it. This includes a bunch of different aspects such as:
Personality
Experience
Competitive Advantages
Messaging
Tone of voice
Brand Positioning
Design Style
Core Values
Objectives
Assets
Purpose
Emotions
Logo
Colours
Vision
Mission
Fonts
Imagery Style
In short, a brand needs personality and a vision that sets the business apart from the rest, it is this that creates the foundation of any website that wants to build a strong reputation and ultimately maximise conversion.
Having said that, it doesn't mean that you need to directly state every core value on your website, it could be as simple as adding lots of group imagery for a team centred approach or perhaps including statistics or positive case studies in a result focused environment. Having a clear grasp on what your USP (Unique Selling Point) is, helps the entirety of your brand flow in the same direction and style.
Start by knowing what you want and who you are, build credibility around it and deliver it online in a compelling way.

Krista Neher – CEO of Boot Camp Digital
2. It's All in The Details
It's a good idea to keep an eye on the smaller details, these are often little niggles that can irritate users. For example, button size, it might be that a button is the perfect size for displaying on a desktop screen but is it responsive? Will it still work when reduced to a smaller mobile device?
Imagery, imagery is one of the most important aspects of any website. 90% of all information that we perceive and that gets transmitted to our brains is visual. Imagery can help you to attract attention and guide your visitors' line of sight. Because of this, visitors will form an opinion on your imagery, and they'll do it quickly. Quality over quantity. Quality isn't solely reliant on whether a photo is in focus or not. You need to take into consideration things such as composition, colour palette and relevancy. Try to use photos of happy, smiling people, it is commonly believed that these types of images result in the highest conversion rates.
Furthermore, like with the CTA button mentioned earlier, make sure your images are responsive and are optimised for viewing on a mobile device. As of February 2022, mobile users accounted for a whopping 57.38% of all website traffic came through mobile phones.
3. Keep Things Simple
50 milliseconds (that's 0.05 seconds!). That's how long it takes a visitor to form an opinion about your website and as an extension, your business. Therefore, it is vitally important that the structure and navigation is easy to follow to increase chances of conversion e.g., buy a product, get in touch, subscribe to a newsletter. If a website is difficult to use and frustrating for a visitor, they will simply leave the site and find another website that does the same job but better. It's that black and white.
However, it isn't just the visitors you need to please, search engines such as Google are now so advanced, if it is appealing to users, then it's appealing to search engines. Search engines crawl websites in the same way a user will navigate through websites, so the faster it can be crawled the quicker it can be ranked. This goes for your mobile site also. It should work just as well as the desktop version.
The key areas to consider when creating or improving your site structure are:
Who are your target audience?
What is the purpose of the website?
What search terms do you rank for?
Organise pages into sub-pages
Keep it simple.
4. Strengthen Your Call-to-Action (CTA)
If you want to set your website apart from others then call to actions (CTA) are an important marketing strategy. When a CTA is clear, simple, and easy to understand, conversion rates will be higher. 
The key to making your CTAs stand out is using the right language according to situations and considering their placement carefully. Writing the perfect call to action can often make or break your website. Too pushy and it could look spammy and scare off any potential customers. Too weak and it just won't be doing its job. A CTAs purpose is to encourage visitors to navigate through the website, providing shortcuts and signposts to different areas of the website. The call to action is one of the few aspects of a website that will directly impact conversion rates.
Use tangible action words, by using action language that spurs visitors to act (for example: "download now", "reserve your seat" or "get voucher code") will all add to the likelihood of a conversion happening. Give your visitors tunnel vision. It's useless if you have a stunning CTA, but it's nestled behind the landing page with the navigation menu. Make sure that the CTA is the first thing visible to the customer. What's more, make sure your CTAs 'pop' off the page. It's no good creating a sense of urgency with carefully selected words if the customer can't see the CTA clearly. Your business profits and revenue greatly depend on wisely using CTAs.
Tip: It is recommended to not use multiple CTAs on each page, by doing so could cause confusion and dilute the main goal of conversion.
5. Cut the Jargon
Clarity trumps persuasion. Do not try and woo people with fancy, complicated business language – it just doesn't work. Here at Reach Studios, we speak to a lot of business owners who are brilliant at what they do and want to shout about every detail. But do we need to?
So, why shouldn't you use technical jargon? Simply put: to get more business. That's something we all want. Technical jargon is still being used by many businesses today, however in most cases, it does more harm than good. Your customers, both existing and potential, will respond better to a marketing message they can understand and relate to. Technical jargon, that they don't know, will only confuse, and irritate them. By removing the technical jargon and humanising your content, you'll see an increase in engagement and an improvement in conversion rates.
In summary, consider the language you use to communicate with your audience. Make sure it's easy for them to understand and is written in a way that is familiar to them. Do your customers care about all the tech jargon? Or do they just need a business who will sort it all for them? By fully understanding what your customers want to know, it will help you include only the relevant information without overloading your website.
To Wrap It Up
To recap, to improve conversion rates make sure you know exactly how you want your brand/business to look and feel. Secondly, understand your audience so you know the information that needs to be included on your website. A straight-forward, easy-to-follow structure and strong call to actions will guide visitors through a clear user journey. Finally, build confidence throughout their journey by showing off your best bits through case studies and reviews.
Need help? Get in touch and lets have a chat about how we can help you reach your business goals today!
Did you enjoy this article?
Join our mailing list