Track User Behaviour with our new Mobile App Analytics Partnership for Flutter Apps
It is important to make the right choice when considering the code or language your Mobile Application is built in. You need to ensure it is up to date with the latest tech standards and that there is a large developer community, working with that code/language. If you have been doing your research, you have probably come across Flutter.
What is Flutter, and how is it used in mobile app development projects? More importantly, when building an app, how can analytics help my mobile application grow and evolve based on user insights and data?
What is Flutter?
Flutter is Google's UI toolkit for building beautiful, natively compiled applications for both Apple (iOS) and Android (Google Play) devices, from a single codebase. Google first introduced Flutter in 2015, however it remained in the beta stage for several years, before its official launch in December 2018. Since then, the buzz around Flutter has been growing stronger. Flutter is now in the top 20 software repos based on GitHub stars. Not just that, there are now thousands of Flutter apps being published on app stores, take a look at some of the Apps being developed using Flutter.
What can app analytics do?
The exciting news of our partnership with a renowned App Analytics provider brings great insights to our App projects. We are one of the first to be granted access to their Beta SDK and have already set our sights on getting this into a live environment for later this year (2021).
Grow Your Audience
Gather insights to grow your audience. With the ability to describe your audience by age, gender, location, engagement, device information, and more. Or how about for deeper understanding, segment your audience by custom events, such as actions users complete in your app, that you define. Examples include making a purchase, viewing an ad, finishing a game level, or reading an article – whatever you define.
Build Better Apps
Discover how users engage with your app and what brings them back for more. Compare engagement by app version, compare the difference between iOS and Android app versions, or investigate whether a design change improved feature discovery. With analytics at the core, you'll run a data-driven product roadmap, and never need to rely on a gut feeling.
You Own Your Data
Your data always belongs to you, you can use the analytics console provided, export reports for further analysis, or use pre-built APIs to pipe data directly into your custom systems and workflows. You can save your most important reports to make scanning your apps' metrics quick and easy. Oh, and our partner just happens to have an app, so your apps' data is only a tap away.
User Journeys
User Journeys present a full picture of how your customers use your product to inform your strategies for deeper engagement and ultimately more conversions. Review the details of every session logged by a sample set of your audience. See exactly how they move throughout your product and which features bring them back.
Audience
Break down your audience by Age, Gender, Location, and Interest Category to provide insights into who is using your mobile application. Uncovering your audience will help you refine your product map, determine appropriate monetization strategies, and optimize acquisition and retention efforts.
Funnel Analysis
Monitor key drop-off points within your app and identify the steps that are driving (or hurting) conversions. Funnels will help you understand the stickiest features in your app, or if consumers are using your application the way you intended, and pinpoint where in the funnel to make improvements.
User Segmentation
Group audiences based on demographics or behaviours, so you can easily analyse each segment's unique engagement patterns. Create any custom segment you can imagine. Powerful examples include segmenting your audience by paying vs. non-paying customers and creating time-based cohorts.
Event Tracking
Track in app events including the way users interact with your app. This could be when a consumer makes a purchase, or uses a new feature. Analytics tools make it easy to set up and track events relevant to your app. Giving you a clear picture of what features or sections your audience interacts with the most.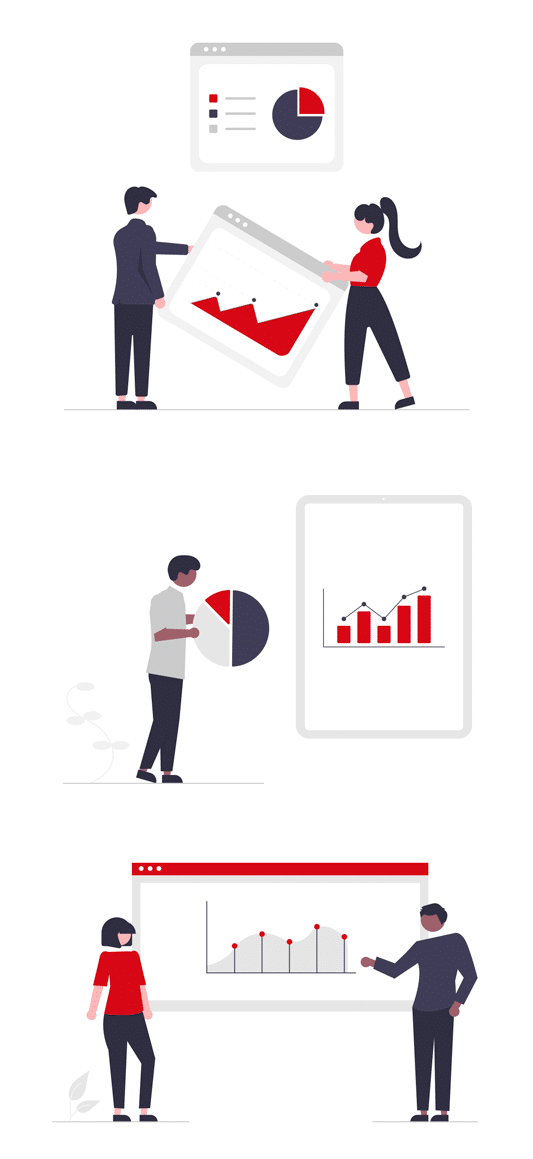 Got a project in mind?
Please contact us if you wish to consider a solution for your online business, we are here to help!
Did you enjoy this article?
Join our mailing list