A bespoke calendar and scheduling web application for TV and film productions for ITV, BBC, Netflix and Sky.
The Irregulars follows a crew of misfits investigating a series of supernatural crimes in Victorian London for Dr. Watson and his shadowy associate, Sherlock Holmes.
Over the past 5 years we have had the privilege of working alongside Line Producer and Production Executive Jonathan Leather – building a custom web application for the various productions he has worked on for companies such as ITV, BBC, Netflix and Sky.
Back in 2020, Jonathan and his Production Manager, Jenny, requested some additional modules and features to streamline the application and make certain features of it much more accessible and easier to use. At the time of the requests the two were working on the latest Netflix hit-show 'The Irregulars', which is currently sitting in the Top 3 most-watched shows on the platform since its release. It follows a crew of misfits trying to solve supernatural crimes in a Victorian-era London for Dr. Watson and Sherlock Holmes.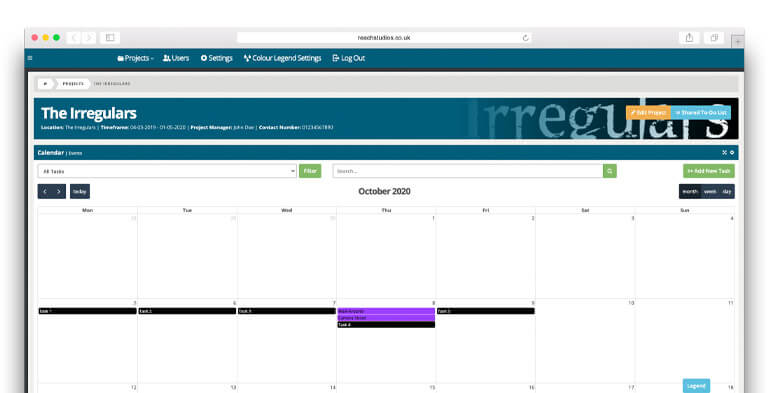 The application includes a multitude of different modules such as:
Calendar & Scheduling
The calendar displays an overview of scheduled tasks (and your own personalised tasks) for the day, week or month. There can be upwards of 20 tasks in one day on the calendar so it's important to be able to filter these down.
Each task is also colour-coded through a colour legend management module in the application. Users can also discuss each task individually through the discussion module within a task, which keeps all discussions tidy and relative to the task you're viewing.
Project Management
The project management module allows the users to add a new production and keep everything for that production separate from other productions. This means all tasks that relate to a specific production are kept within that project and are not visible when viewing other productions, saving tasks in the calendar from being mixed up.
Shared To-Do Lists
Within the shared to-do lists you can any notes or important information than doesn't warrant being created as a new task in the calendar. Once a to-do is completed it can simply be removed from the list.
User Management
The user management module does what it says on the tin. Add, edit or delete users from the application, set different user roles and permissions and lock down certain parts of the application for certain users.

We were invited down (pre-pandemic obviously!) to attend one of the live film sets based at Wentworth Woodhouse in Rotherham to see the application being used real-time across a full cast and crew. We took our team down from our office in Sheffield to take a close look behind the scenes. To get an oversight into how the crew transformed the stables and living quarters at Wentworth Woodhouse into a Victorian-themed Fleet Street with horses, chickens and 100's of cast members was amazing.
As you can probably guess we were sworn to secrecy about the show at the time and we were told not to disclose any information or pictures surrounding it, but now we can and can confirm just how good this series is. If you're interested in the supernatural or Sherlock Holmes, then you absolutely need to give this series a spin, you won't be disappointed.
We are extremely excited for the team to continue using the application across various productions in the future and look forward to making continuous improvements and upgrades to it.
If you work in a production setting and want to find out more about how this application could help you with time-saving, automations and scheduling, or even get your own version, then please get in touch with us and we can happily connect you with Jonathan and his team to try a demo! If there is something more bespoke you require and would like to discuss the requirements, our team are more than happy to assist.