eCommerce Solutions
Your eCommerce solution provider
By utilising a variety of different ecommerce platforms we can provide you with the perfect platform for you and your business. We will ensure your website is ideally positioned in your marketplace to sell your products or services with ease.
Magento 2
Shopify
Aero Commerce
WooCommerce
Bespoke Solutions
By working with several platforms it enables us to provide you with the best possible advice on which is the right platform for you and your business. We've got strong experience and partnerships with some of the biggest names in e-Commerce.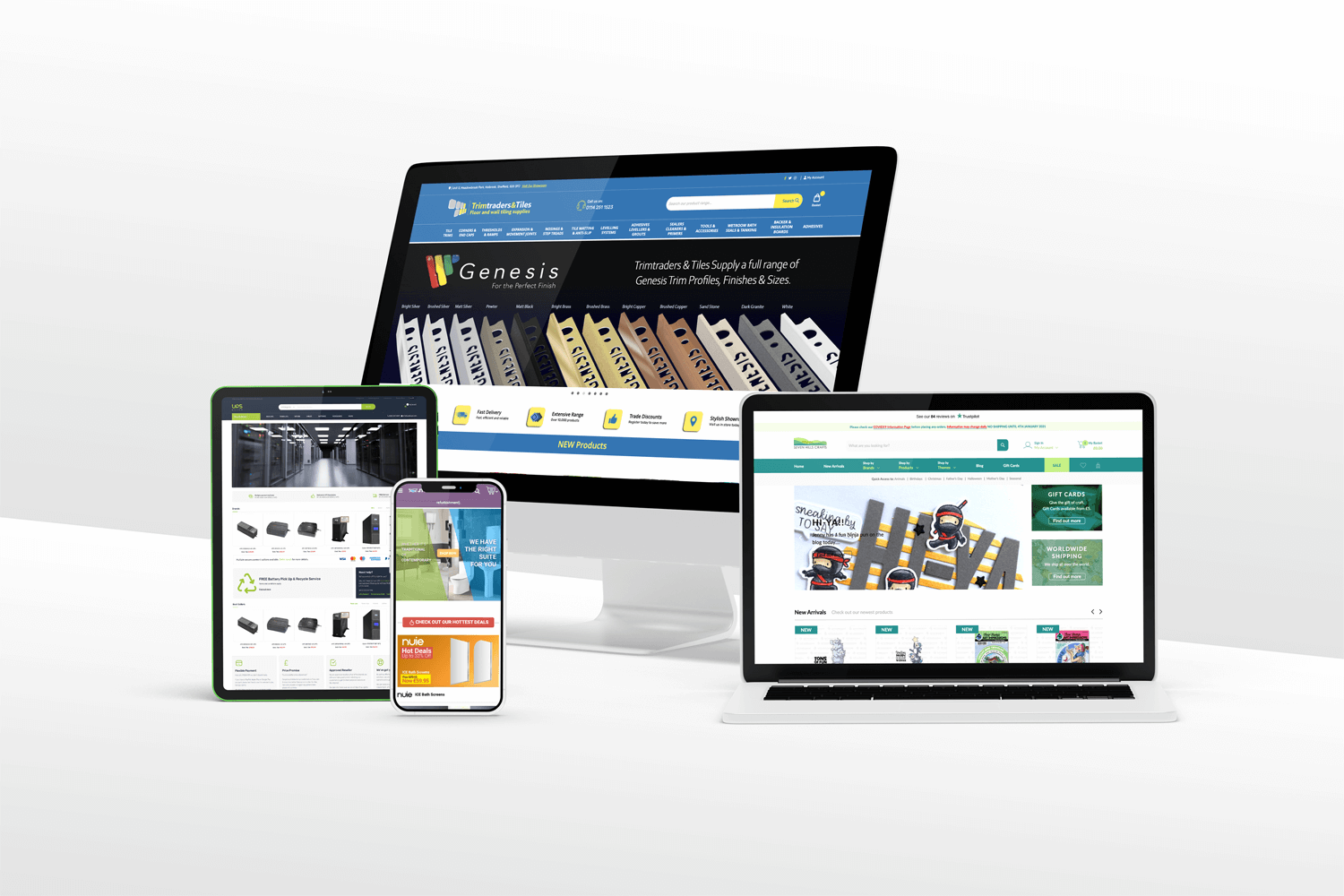 Partner With Reach
Ensuring your eCommerce is perfectly positioned in your marketplace
Working with your team from ideation to go-live and delivering a strategy for a better ROI.
Our deployment strategy encompasses everything from start to finish. From choosing the correct platform for you and your business, to integrating to the perfect ERP system through to multi-channel sales and much more.
Valuable Results
Using actionable data that will help grow your business
The work doesn't just stop when you have your nice and shiny new e-Commerce website design and well-developed administration platform. There is ongoing work to maintain the e-Commerce website continues to work hard for you and your business, and to drive much more traffic to your website.
↑ 54% sales increase
Migrating from a Magento 1 platform to Magento 2 platform resulted in a

54% increase in online sales

from Jan '20 to Jan '21.
↑ Increase conversions
Interface, functionality, integration and speed upgrades resulted in a

conversion increase from 1.9% to 3.8%.
↑ Cost-saving strategies
Migrating from Magento 1 to Magento 2 resulted in a

54% increase in online sales

from Jan '20 to Jan '21.
↑ Increased checkouts
Developing a cryptocurrency integration for high-end products resulted in

increase in completed checkouts.
GROW FASTER
We Know You Have Questions & We'll Happily Answer Them
We have experienced the ever-changing eCommerce trends over the last 10 years from both a visual aspect through to technological developments.
Our team of experienced analysts and developers work along side you to understand your audience profiling, products and long-term business objectives. With our vast experience across different e-Commerce sectors we can increase ROI using visual and data trends that are current.
A seamless shopping experience from start to finish is what we strive to achieve with the added advantage of key design decisions, analytical intelligence and automated processes creating a rapid ROI.
Why choose Reach?
Strategy
Our experience and expertise aligned with your brief and business goals will create the roadmap.
Platform
Magento, Shopify, WooCommerce or a custom solution. We can establish what will work best for you and your business.
Customer Experiences
Our highly-skilled teams will create the perfect buying experience for your potential customers.
Integrations
We will work along side you to create and deliver seamless integrations, including ERP, WMS and marketplace integrations.
Advanced Security
Making sure your store is secure and compliant is key. That's why we're partnered with the biggest PCI providers in the UK.
Campaigns & Metrics
We will also assist with your post-launch digital marketing campaigns and help you deliver on your ROI metrics.
Our Clients Said This
"Reach Studios are clear in their communications and have lead us along the path of technology ensuring a smooth and comfortable transition, always."
Toni Mitchell-Taylor, Operational and MHE Training Manager, XPO Logistics
Ready to discuss a project?
Find out how we can help you grow your business.