Integrations and customisation is
our thing
We build eCommerce services for all industries and sites of various complexities.
At Reach Studios we have built eCommerce websites that coordinate offline and online order processing, integrating with all kinds of third-party systems. We have created bespoke add-ons allowing clients to manage their entire business via their website.
We design, build and create beautiful, innovative and integrated eCommerce websites for a variety of platforms such as Shopify, Magento, WooCommerce and Aero Commerce.
Our knowledge and understanding of eCommerce is excellent, but what sets us apart from our competitors is our ability to build custom integrations and extensions, software, applications, and custom API.
With our highly proficient developers and project specialists, we build custom solutions and integrations with ERPs, CRMs, PIMs, accounting software, stock control applications, fulfilment solutions and legacy systems.
Clean and intuitive UI/UX design, mobile compatibility, and fast page load speeds, you'll see more completed purchases, higher average order value and improved ROI for your online store with our ecommerce website development experience.
Seamless Migration
We offer Magento 2 migration services for painlessly transferring your store to the latest, most secure, and versatile Magento 2 platform. We are experts both in Magento Performance optimisation and customisations, which makes our team the top pick for the complex task of Magento 2 migration. We do not just move your data from point A to point B. We eliminate bottlenecks in your Magento store code and integrations.
Our migration services are not limited to Magento stores, use the tool below to find out if we can help you take your eCommerce store to the next level.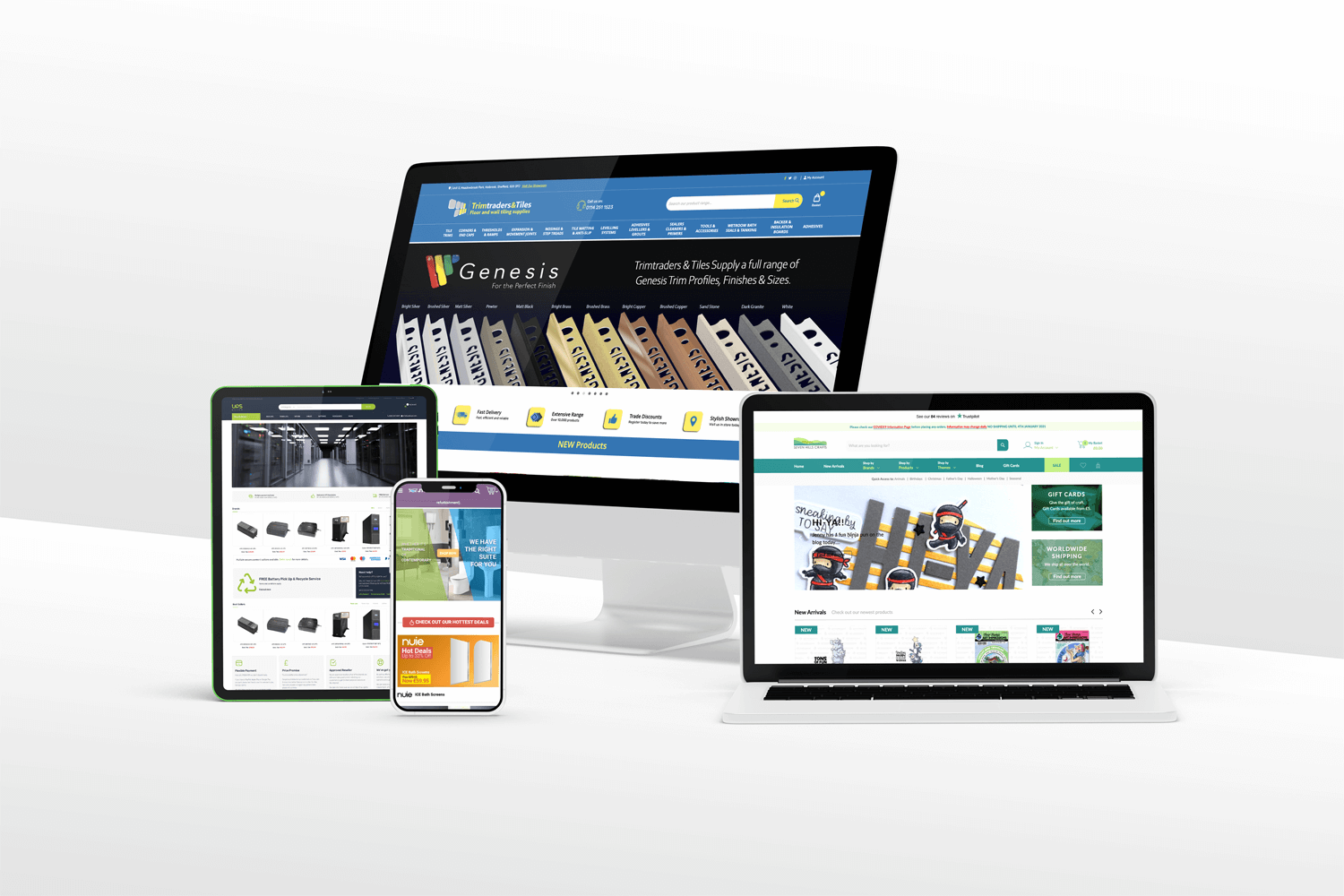 Magento Multi-Store – Multiple brands under one umbrella.
In contrast to a single e-shop where one panel controls just one site, Magento 2 multi-store allows us to create and launch multiple websites with a central dashboard.
With Magento multi-stores, you can take your business to the next level. If you strive to expand globally or separate B2B from B2C, Magento's multi-store scalability and flexibility is the answer.
eCommerce Platforms
The choice of platform to allow your business to grow will differ from business to business. Whether you want to establish your brand, grow online, improve conversion, and experience, or improve business processes we work with highly scalable, flexible, and future-proof platforms to deliver results.
We try to be unbiased, platform agnostic, if possible. That's not to say we don't recommend which platform you should use, but we propose a solution based on your specific needs. Our deployment strategy incorporates everything from start to finish. From choosing the correct platform for you and your business to integrating the perfect ERP system right through to multi-channel sales and much more.
Not sure which ecommerce platform to choose?
If you are unsure what platform is best suited for you, get in touch for an initial chat where we can talk you through the options that will best accommodate your business.
Our favourite eCommerce platforms:
We have collaborated with various top-tier third-party solutions that accredit your business. Also, we develop unique and tailored eCommerce integration for all eCommerce businesses.
Shopify / Shopify Plus
Magento / Magento 2, Adobe Commerce
WooCommerce
Aero Commerce
Big Commerce.
Shopify
Shopify is an award-winning multi-channel platform which powers over 1,000,000 businesses of all sizes worldwide. is renowned for being a catalyst for growth. It is an all-in-one commerce solution to start, run and grow a business. Without the hefty price tag of other platforms, Shopify is one of the most affordable multi-channel retail platforms.
Magento
Magento is one of the world's most popular eCommerce platforms. It's currently empowering over 250,000 retailers and is chosen by 1 in every 4 businesses. From the design and build of a new website, migrations from Magento 1 to Magento 2 or exceptionally good support, we can help.
Designed to be completely scalable and offer optimal performance, Magento provides a package of exclusive features both in the back end and front end to optimise marketing and analytical techniques and improve administration options. All of which dramatically increase the shopping experience of your customers.
WooCommerce
WooCommerce is a free WordPress plugin. Also, a customisable eCommerce website development platform. It allows the merchants to convert their websites into attractive online stores.
Moreover, WooCommerce offers various other paid features too. It is suitable for small-sized businesses (1-50 employees).

Aero Commerce
Choose an eCommerce platform that does not stand in the way of creativity. Aero Commerce provides the flexibility you need to produce best-in-class checkout experiences that are optimised for conversions.
BigCommerce
A pioneer in the online selling space, BigCommerce provides businesses with the technological infrastructure they need to succeed, including a wide range of third-party plugins, an extensive digital marketing toolkit, and an easy-to-use dashboard for managing multiple online storefronts.
Helping eCommerce businesses grow for over 10 years
We are very pleased to say that we have helped so many clients worldwide. If our accomplishments interest you, then you can read all about them here.
Valuable Results
Using actionable data that will help grow your business
The work doesn't just stop when you have your nice and shiny new e-Commerce website design and well-developed administration platform. There is ongoing work to maintain the e-Commerce website continues to work hard for you and your business, and to drive much more traffic to your website.
↑ 54% sales increase
Migrating from a Magento 1 platform to Magento 2 platform resulted in a 54% increase in online sales from Jan '20 to Jan '21.
↑ Increase conversions
Interface, functionality, integration and speed upgrades resulted in a conversion increase from 1.9% to 3.8%.
↑ Cost-saving strategies
Migrating from Magento 1 to Magento 2 resulted in a 54% increase in online sales from Jan '20 to Jan '21.
↑ Increased checkouts
Developing a cryptocurrency integration for high-end products resulted in increase in completed checkouts.
Ready to discuss a project?
Find out how we can help you grow your business.