The future of eCommerce is arriving, and Reach Studios are leading the next generation. We are taking brands beyond their competition.
Ecommerce Agency Sheffield
We offer a full suite of eCommerce website design and development services. Whether you are building an online store from the ground up or looking to upgrade your current website, our team has a solution that can fit your needs.
Our experienced eCommerce team use the right platform to boost your online sales – from planning, designing, developing, launching, and marketing an eCommerce website choose Reach Studios to take your eCommerce business to the next level.
Whether you're looking to reinvent, refresh, or extend, we deliver scalable, future-proof solutions that fuel successful digital businesses.
With over 10 years of experience in developing customised eCommerce websites and online stores, our team of skilled developers can create a solution that is perfect for your business. We utilise flexible, robust, and future-proof eCommerce tools and technologies that maximise your eCommerce website's performance so you can focus on taking your business to the next level.
We build eCommerce services for all industries and sites of various complexities.
At Reach Studios we have built eCommerce websites that coordinate offline and online order processing, integrating with all kinds of third-party systems. We have created bespoke add-ons allowing clients to manage their entire business via their website.
We design, build and create beautiful, innovative and integrated eCommerce websites for a variety of platforms such as Shopify, Magento, WooCommerce and Aero Commerce.
Our knowledge and understanding of eCommerce is excellent, but what sets us apart from our competitors is our ability to build custom integrations and extensions, software, applications, and custom API.
With our highly proficient developers and project specialists, we build custom solutions and integrations with ERPs, CRMs, PIMs, accounting software, stock control applications, fulfilment solutions and legacy systems.
Reach Studios can offer you clean and intuitive UI/UX design, mobile compatibility, and fast page load speeds, you'll see more completed purchases, higher average order value and improved ROI for your online store with our e-commerce website development experience.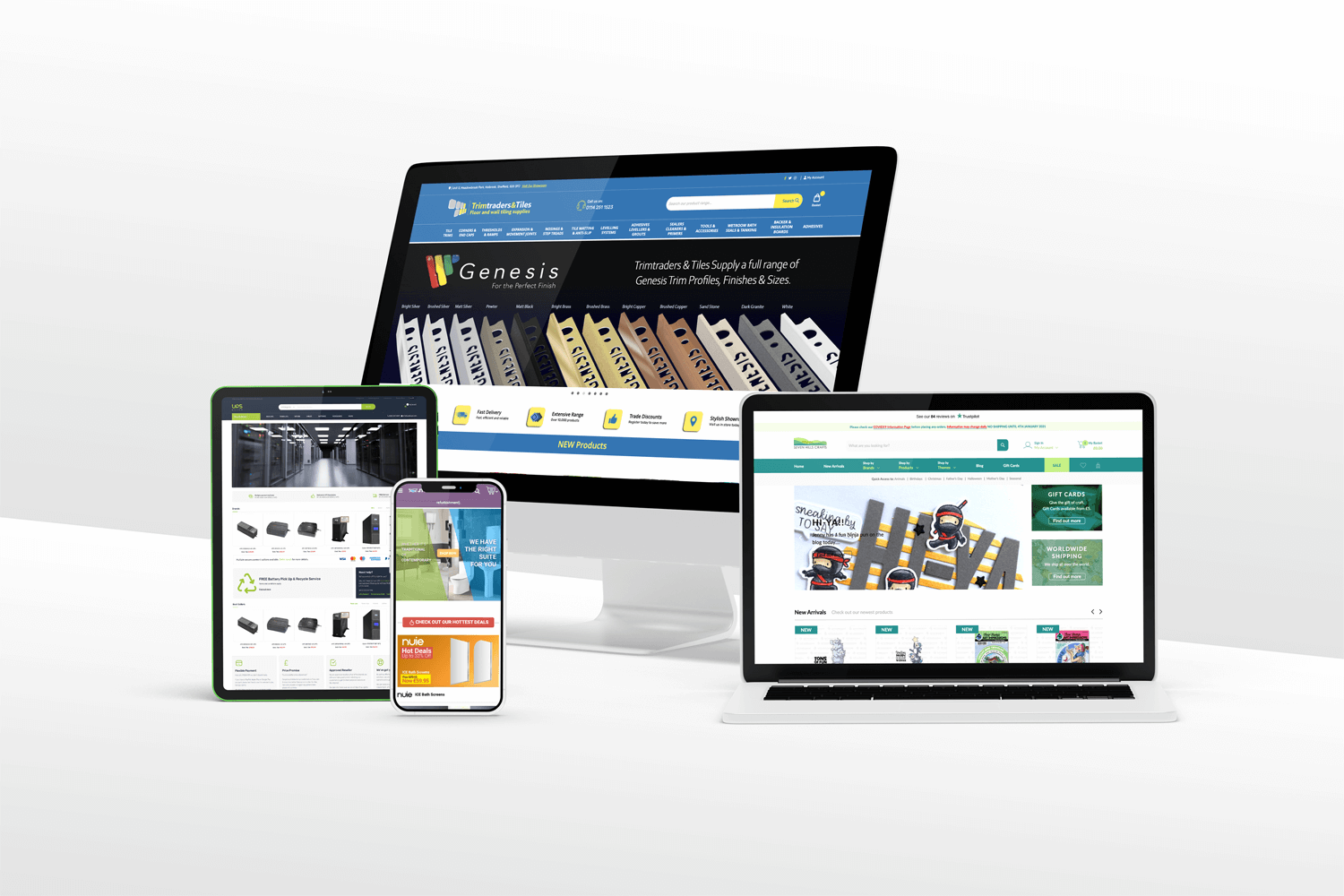 Valuable Results
Using actionable data that will help grow your business
The work doesn't just stop when you have your nice and shiny new e-Commerce website design and well-developed administration platform. There is ongoing work to maintain the e-Commerce website continues to work hard for you and your business, and to drive much more traffic to your website.
↑ 54% sales increase
Migrating from a Magento 1 platform to Magento 2 platform resulted in a

54% increase in online sales

from Jan '20 to Jan '21.
↑ Increase conversions
Interface, functionality, integration and speed upgrades resulted in a

conversion increase from 1.9% to 3.8%.
↑ Cost-saving strategies
Migrating from Magento 1 to Magento 2 resulted in a

54% increase in online sales

from Jan '20 to Jan '21.
↑ Increased checkouts
Developing a cryptocurrency integration for high-end products resulted in

increase in completed checkouts.
Ready to discuss a project?
Find out how we can help you grow your business.